Retirement is a big step, but you can choose to ease into it with an NGS Transition to retirement account. Opening an account lets you draw down an income from super while still working.
Who is it available to?
If you've reached your preservation age but would like to continue working, you may be able to open a Transition to retirement (TTR) account. A TTR account will provide you with income payments. Some people choose to reduce their working hours and use TTR income payments to make up for their salary shortfall; others use a TTR account as part of a tax-saving strategy. More details on this below, but first, to see if you're eligible, you'll need to know your preservation age:
| Your date of birth | Preservation age |
| --- | --- |
| Before 1 July 1960 | 55 |
| 1 July 1960–30 June 1961 | 56 |
| 1 July 1961–30 June 1962 | 57 |
| 1 July 1962–30 June 1963 | 58 |
| 1 July 1963–30 June 1964 | 59 |
| After 30 June 1964 | 60 |
How does it work?
A TTR account must pay you an income payment at least once in each financial year. The current TTR annual payment limits are:
Transition to retirement account annual payment limits
Age
Minimum
Maximum
Preservation age - 64
2%
10%
65 and over
Transition to retirement is available for workers between preservation age and age 64
If you're aged over 60, your income payments will be tax-free. Tax will generally apply for those aged under 60. In some cases, a tax offset may be applicable. For more information, download our Fees, costs and tax fact sheet.
What are the benefits?
Many who decide to move to part-time work arrangements open a Transition to retirement (TTR) account. The income payments they receive help to supplement their reduced salary.
A TTR account can also help provide tax benefits for people over 60 who continue to work full time. While receiving an income from your TTR account, you could structure your super contributions to maximise your savings and reduce tax, without reducing your take-home pay.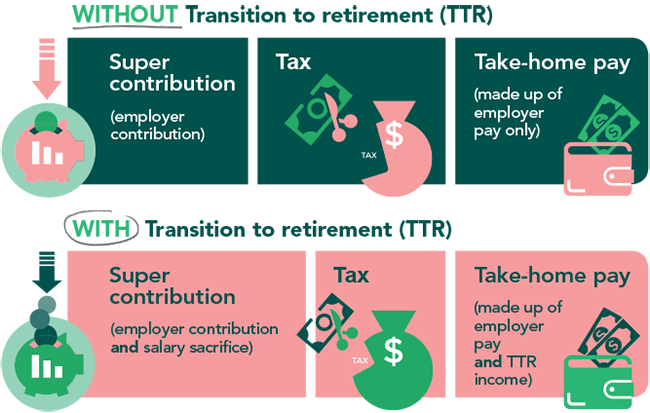 Our Transition to retirement fact sheet has some case studies that detail how this strategy works. It can get complicated, so if you're unsure, consider seeking advice.
How much will I need?
Super is your savings for retirement, so do you know how much you should be aiming for? The answer will be different for everyone — there are various factors you need to consider in working out how much you'll need for retirement.
Learn with NGS MoneyCoach
Get advice for every stage of your life
NGS Super members have access to qualified and non-commission based financial planners, including over-the-phone limited advice* about your account, at no additional cost.
Find out more
*Limited advice covers one or two issues in isolation on topics such as investment selection and contribution levels. It does not take into account the member's entire financial situation.