As a super fund, part of Australia's $3 trillion super industry, we have a unique and important role to play in the necessary transition to a low-carbon world - how we invest your money makes a difference to the future for us all.
We have entered a decisive decade for humanity, as the effects of climate change (and the lack of action taken to ameliorate it) have become increasingly obvious worldwide. Economic systems will face major disruption and we must make a paradigm shift in our economic models to protect our members' retirement savings. In 2021, NGS Super made the bold decision to transition our investment portfolio to carbon neutral by 20301. In early 2022, we confirmed that this target is achievable. It requires us to complete more work, especially around carbon-positive investments to sequester carbon, such as natural capital, and carbon capture utilisation and storage (CCUS)2. We also need to better understand the factors that may affect how carbon markets evolve, such as regulation, liquidity and transparency.
As a Fund, we recognise that this is the moment in history in which we must take drastic action to contribute to change. By using the collective capital of committed NGS members, we will support companies building sustainable, lower carbon businesses, while aiming to improve on current average long-term investment returns for our members.
Each year, we complete analysis to re-review the carbon intensity of the Fund and scenario analysis to track how we are moving towards our targets (2025 and 2030) and to understand any new or changed risks under our chosen scenarios.3 We also complete analysis to ensure that our targets are achievable in the best financial interests of members.
What have we done since March 2022?
Since our last update to members (published in May 2022), we have been focusing on 3 main streams of work:
making changes to the portfolio4 to make it more carbon-efficient5
completing a review of the work completed in 2021:
a. remeasuring the carbon emissions for the portfolio
b. revisiting the scenario analysis for the listed assets
c. revisiting scenario analysis in the form of proxy's representing the Fund's infrastructure and property sectors
assessing where we are on our "glide path" through to our stated targets at 2025 and 2030, ensuring that there is still a reasonable likelihood of meeting our carbon neutral target by 2030.
What has resulted from the re-review of the portfolio at 30 June 2022?
How are we tracking on our glide path?
Carbon credits and/or positive carbon investments
Attribution of the carbon reduction
What does this work tell us?
The re-review has resulted in us gaining confidence that we can make significant progress towards our interim target of 35% less emissions by 2025 and become carbon neutral by 2030 while acting in the best financial interests of members.
What does decarbonisation look like for NGS Super?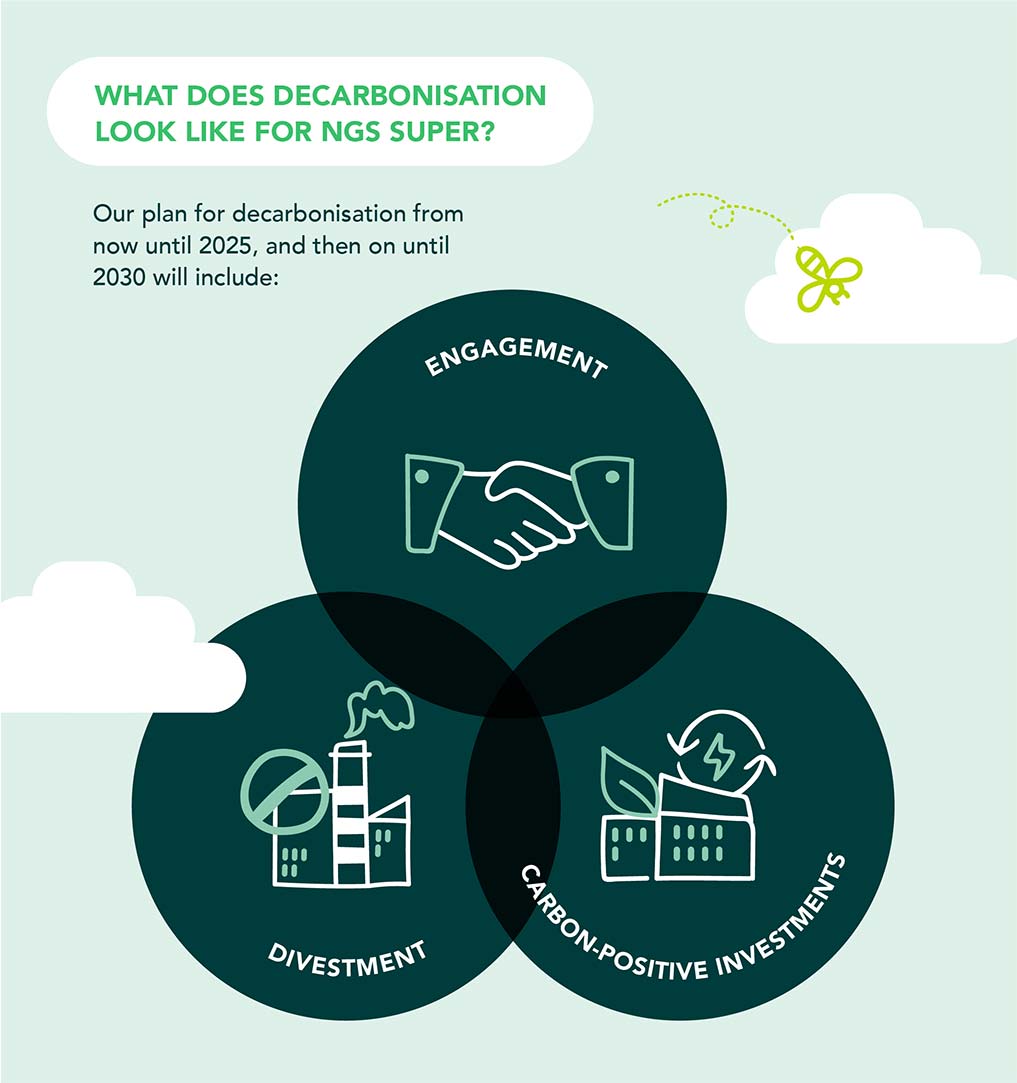 Our plan for decarbonisation from now until 2025, and then on until 2030 will include:
engagement
divestment
investing in carbon-positive investments.
Investing in carbon-positive and low-emission investments
Reporting and feedback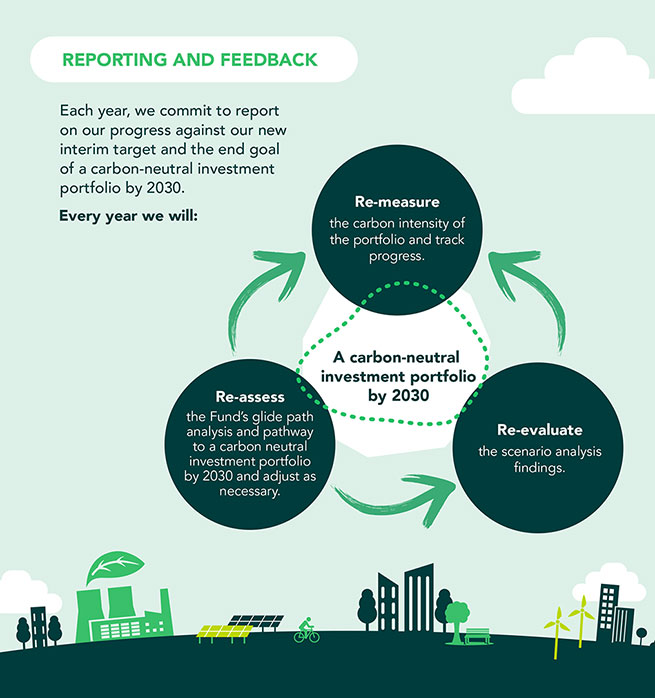 Each year, we commit to report on our progress against our new interim target12 and the end goal of a carbon neutral investment portfolio by 2030. Each year we will:
re-measure the carbon intensity of the portfolio and track progress
re-evaluate the scenario analysis findings and
reassess the Fund's glide path analysis and pathway to a carbon neutral investment portfolio by 2030 and adjust as necessary.
Members' best financial interests remain paramount
Acting in the best financial interests of our members is the paramount duty for the Trustee and will always be the first consideration as we embark on our decarbonisation journey and at each annual progress review. If at any point it becomes clear that we may be jeopardising our members' best financial interests, we will adjust our goals and timeframes accordingly.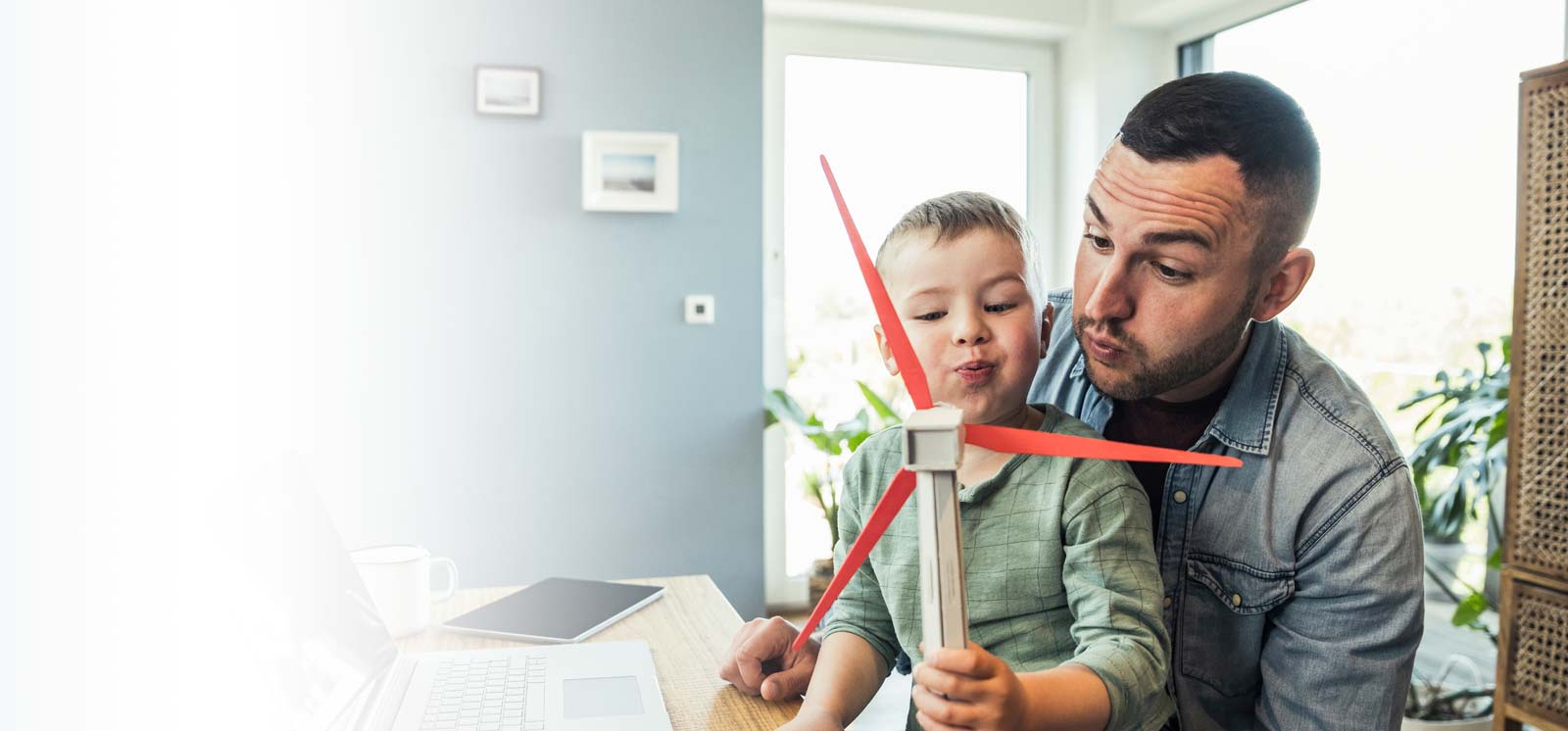 How is this good for my super?
Investing responsibly is designed to deliver returns for you and the planet.
Learn more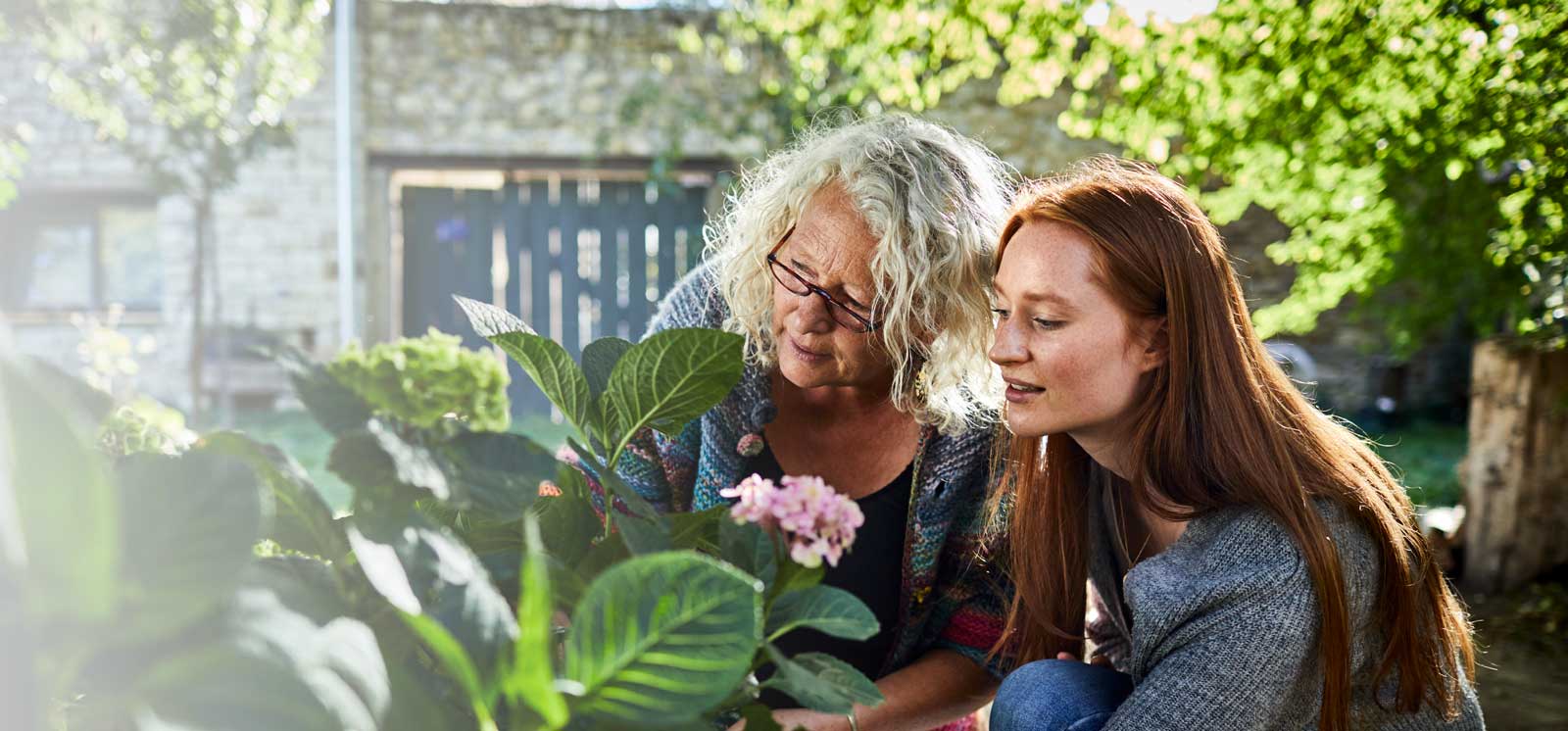 We're investing for tomorrow
By choosing NGS, you're securing your future by supporting companies that genuinely care about their social and environmental impact.
Learn more
Appendix 2: How we calculate the carbon in our portfolio
1 Scenario analysis refers to the scenario analysis completed by NGS Super facilitated by Planetrics PlanetView platform. We use the scenario framework which consists of 6 scenarios representing orderly transition, disorderly transition and a hot house world. In this communication we illustrate summary analysis using 3 of the 6 scenarios being 1) Delayed 2 degrees (Disorderly) 2) Net Zero 2050 (Orderly) and 3) Nationally Determined Contributions (NDCs) (Hot House World). These scenarios are developed by the Network for Greening Financial System (NGFS) which align with integrated assessment models used by the Intergovernmental Panel on Climate Change (IPCC).
2 Portfolio means Diversified (MySuper) investment option.
3 Based on scope 1 and scope 2 emissions.
4 35% less emissions on the 30 June 2021 baseline level.
5 Carbon neutral for the Diversified (MySuper) investment option.
6 climatepromise.undp.org/news-and-stories/what-are-carbon-markets-and-why-are-they-important
7 As defined by the Global Industry Classification Standard (GICS).
8 For listed investments, as defined by the GICS sub-industry; for unlisted investments, an internal assessment is made.
9 35% less emissions in the Diversified (MySuper) investment option as at 30 June 2025 (when compared to the 30 June 2021 emissions measurement).
10 www.ngfs.net/ngfs-scenarios-portal/explore
11 www.ngfs.net/ngfs-scenarios-portal/explore
12 www.ngfs.net/ngfs-scenarios-portal/explore