Not sure what to expect from a financial planning appointment? Everyone's circumstances are unique, but we've outlined the basic step-by-step process so you get an idea what an advice journey generally looks like.
How can financial advice help?
Financial advice can help you identify and work towards achieving your goals and meeting your needs. Everyone's goals are different — for example, you may be saving for your first home, or perhaps you're preparing for retirement. A financial planner can get you on the right track by creating a plan using strategies that structure your money smarter.
Your advice journey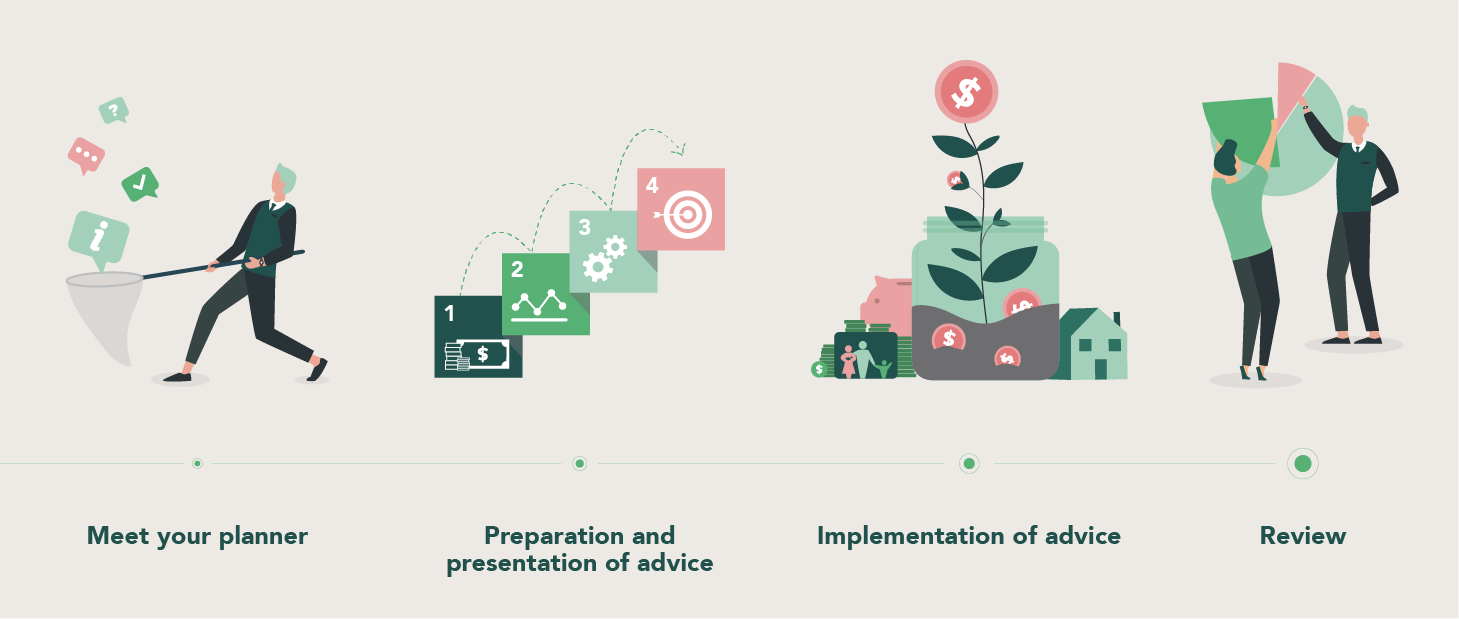 Meet your planner
Your first appointment is an opportunity for you and your planner to get to know each other. You'll get an idea of how your planner works, and they'll ask things like:
why are you seeking advice?
what are your goals?
what's your current financial situation?
what are your financial needs?
This initial meeting is complimentary, and you have no obligation to continue after this point.
By the end of the meeting, your planner will know if they can help you with personal advice. It's then up to you if you'd like to proceed.
If you decide to proceed towards advice, your planner may need to meet with you again to ensure they collect all necessary information to prepare your plan. Either in your initial consultation or during a follow-up (if required), your planner will also let you know the expected fee to provide you with advice which you must agree to before they prepare advice for you. An outline of our advice costs is provided further down this page.
Preparation and presentation of advice
Your financial planner will use the information initially gathered to build a financial plan tailored to your goals and needs. Our financial plans are detailed and accurate — your planner will let you know how long yours will take to prepare.
Once ready, your plan will be presented to you in a Statement of Advice (SoA). Your planner will contact you to arrange a suitable time to meet and talk you through it. You can (and should) ask any questions that arise in this meeting. You don't need to sign up to the plan immediately — you can take it home and think about it before committing.
Implementation of advice
If you agree to go ahead with the advice, your planner will organise to implement it. You'll need to complete any relevant paperwork, including an Authority to Proceed.
Implementation can often take many weeks to complete. You can rest assured that our planners will be there each step of the way to ensure your plan is implemented in line with your SoA.
Review
We offer a Review Advice Service (RAS) to members who have previously received an SoA. This allows you to review your finances each year with your planner. During your RAS meeting, your planner will:
discuss the performance of your investments
update you on legislation changes
discuss changes to your personal and financial situation, goals and needs.
After this meeting, your planner will prepare and implement any agreed-upon advice. There's no obligation for an ongoing commitment to the RAS, and it doesn't automatically renew. The annual fee for this service is structured to cover both the meeting and SoA (if needed).
We also offer one-off review meetings if you'd prefer not to sign up to the RAS. You'll discuss the same things, but the fee structure is different — if you end up needing personal advice, you'll need to pay for it separate to the meeting fee.
NGS financial planning costs
If you require advice, we will give you a clear outline of any costs involved so you can decide if a plan is right for you.
Get started
If you'd like to start your advice journey, you can request a callback to arrange an appointment with one of our planners.
Meet our financial planners
Our team of financial planners are professional, experienced and understanding. Getting expert advice is about creating the best financial outcomes for you. You can get to know our planners on this page.