News
NGS and ACS — merger update
22 Mar 2021 4 min read
Since NGS Super announced our planned merger with Australian Catholic Super in August 2020, both funds have been working behind the scenes to complete the many tasks that are involved.
While the work continues, members of NGS and ACS won't experience any interruptions, but you may well be curious about the process and where we currently are on the merger timeline.
The infographic below gives a visual of some of the key steps in the process, and we've also provided a little more information below about those steps and what they involve.
While we don't yet have a concrete date for completion of the merger, we're confident this will happen next year (2022).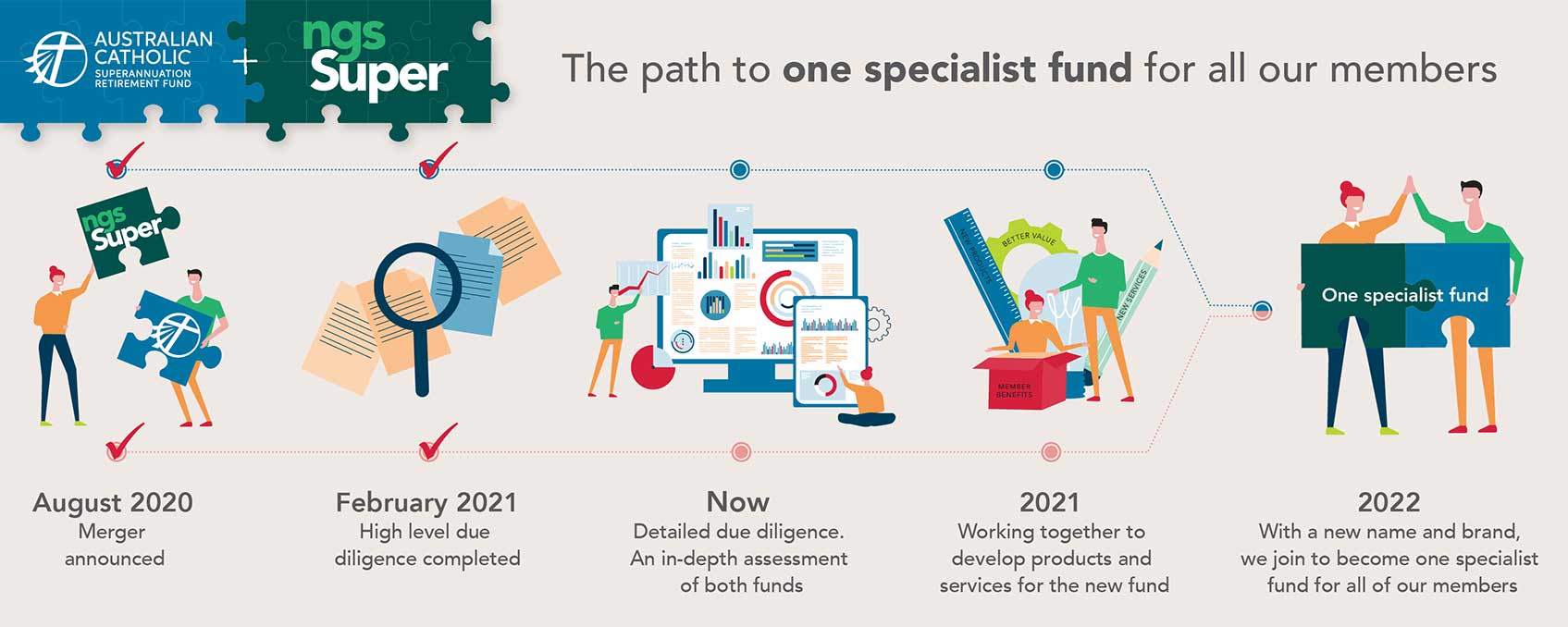 August 2020
We signed Memorandum of Understanding. This was essentially the formal starting point, when NGS and ACS agreed to work towards a merger.
February 2021
We completed High Level Due Diligence. Due diligence is, in simple terms, the process of one business assessing another business. As we are entering into a merger, not a takeover, this means that NGS and ACS have been looking at each other's operations, at a high level, to make sure it's in all our members' interests to continue. This is the step we have just completed, with an agreement to proceed to detailed due diligence.
Now
Detailed Due Diligence. As you would imagine, this is an in-depth assessment of each fund's operations. This is also when we start thinking about a name for our new fund — thank you to those members who have given us their opinion.
June–August 2021
Heads of Agreement. Following the completion of the Detailed Due Diligence both funds will sign a Heads of Agreement confirming our intention to merge. The planning for and implementation of the merger will commence.
2022
Our new fund begins. We will have completed a lot of legal and administrative work that will allow us to start operations as a brand new fund for all our members.
For general questions about the merger, read our FAQs or call us on 1300 133 177, Monday to Friday, 8am–8pm (AEST/AEDT).